Teachers Resources
---

Monitoring the Earth from Space with SeaWiFS . - An online presentation about ocean color.

---

Living Ocean Teacher's Guide - Studying Ocean Color From Space: A Teacher's Guide with Activities.

---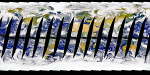 Explore the World with SeaWiFS in true color at 4 kilometer resolution
---

NEW 2000 Teacher Workshop - Images and notes from a Workshop presented to Grade 5-12 science and math teachers, suggesting how SeaWiFS data can be incorporated into the curriculum.
---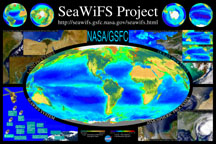 SeaWiFS Poster and Supplement - Download the SeaWiFS poster and teaching supplement.

---

Learn the steps used to create some of the wonderful SeaWiFS images.
---
Ocean Color Science Focus! from the GES DISC
---

Remote Sensing Tutorial: A very comprehensive review of remote sensing
---

Bigelow Laboratory's Online Resource exploring phytoplankton, food webs, microscopes, satellites and algal blooms.
---

The Remarkable Ocean World: A great online resource of ocean topics.
---

The Colors of Life - a set of stories and animations about SeaWiFS and the Carbon Cycle.
---

Phytopia: An Educational Website from the Bigelow Laboratory

---
Other Resources


gene carl feldman (gene@seawifs.gsfc.nasa.gov) (301) 286-9428