NASA Educational Workshop
SeaWiFS: Atmospheric Correction
---
We want to measure the "color" of the ocean, but we actually measure ocean + atmosphere. The atmosphere is 90% of the signal, and it must be accurately modeled and removed.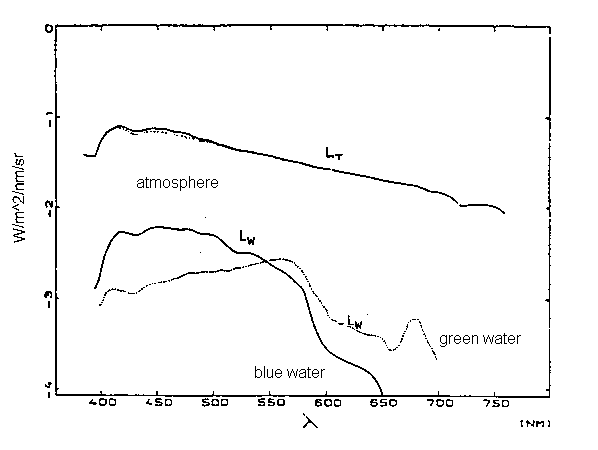 Effects of the Atmosphere
Gaseous absorption (ozone, water vapor, oxygen).
Molecular scattering (air molecules), also referred to as Rayleigh scattering. Scattering efficiency decreases with wavelength as l-4. Reason for blue skies and red sunsets.
Aerosol scattering and absorption (haze, dust, pollution). Whitens or yellows the sky.
Gaseous Absorption
Transparency Windows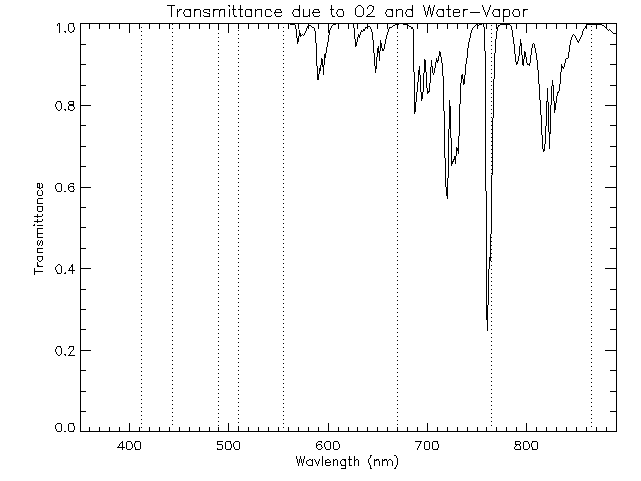 Light Paths to the Sensor
Scattering and Attenuation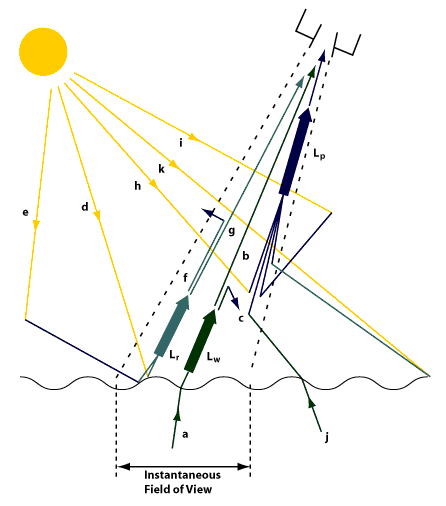 Atmospheric Correction Equation
Lt = Lr + (La + Lra) + tLwc + TLg + t Lw
Lw is the quantity we wish to retrieve at each wavelength.
TLg is Sun glint, the direct reflectance of the solar radiance from the sea surface. This effect is avoided through tilting.
tLwc is the contribution due to "white"-capping, estimated from statistical relationship with wind speed.
Lr is the contribution due to molecular (Rayleigh) scattering, which can be accurately computed.
La + Lra is the contribution due to aerosol and Rayleigh-aerosol scattering, estimated in NIR from measured radiances and extrapolated to visible using aerosol models.
SeaWiFS "True-Color" Image Near Hawaii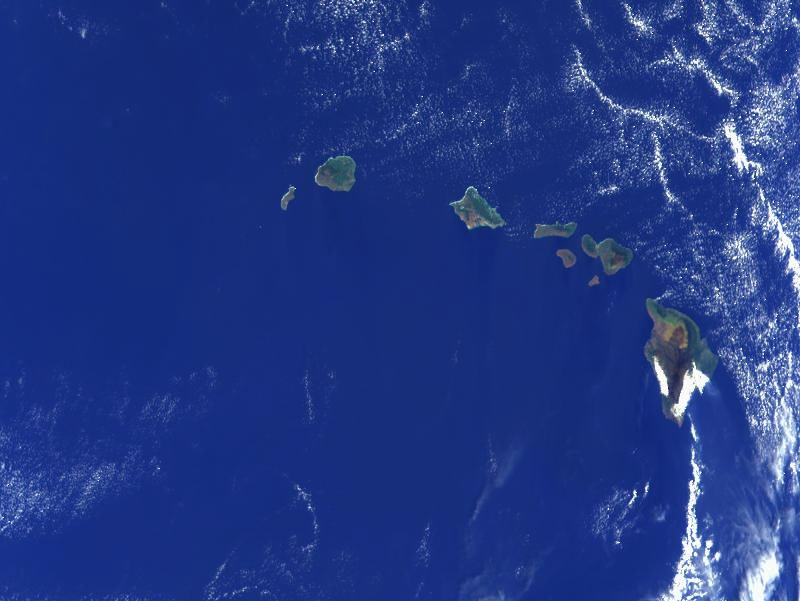 Retrieval of Lw from typical pixel near Hawaii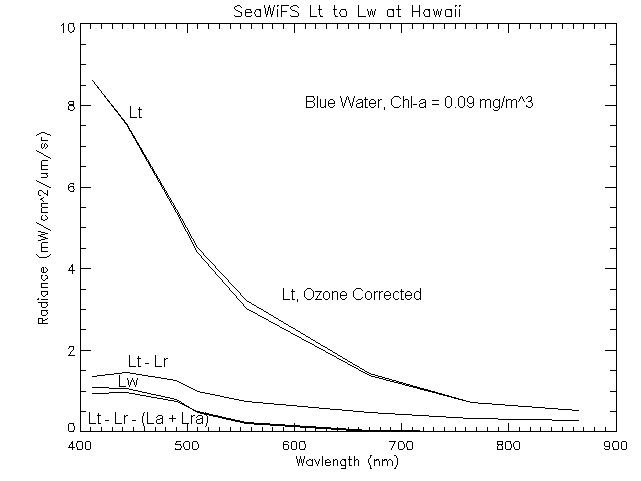 SeaWiFS Derived Chlorophyll Near Hawaii
SeaWiFS Calibration and Validation Process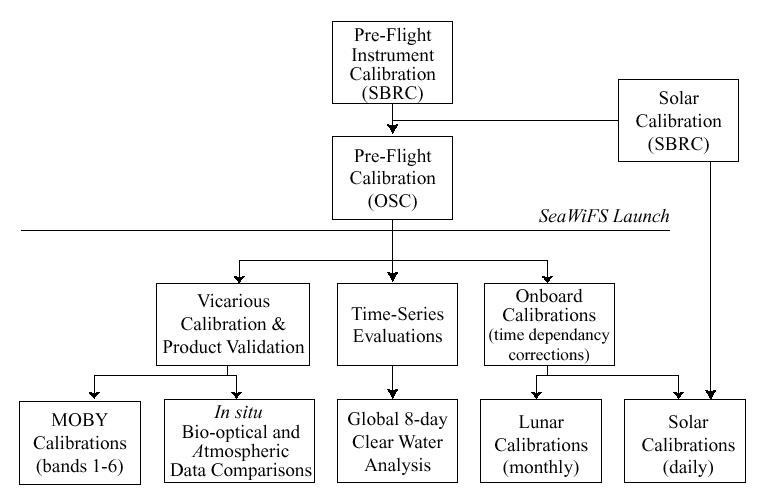 SeaWiFS Lunar Observations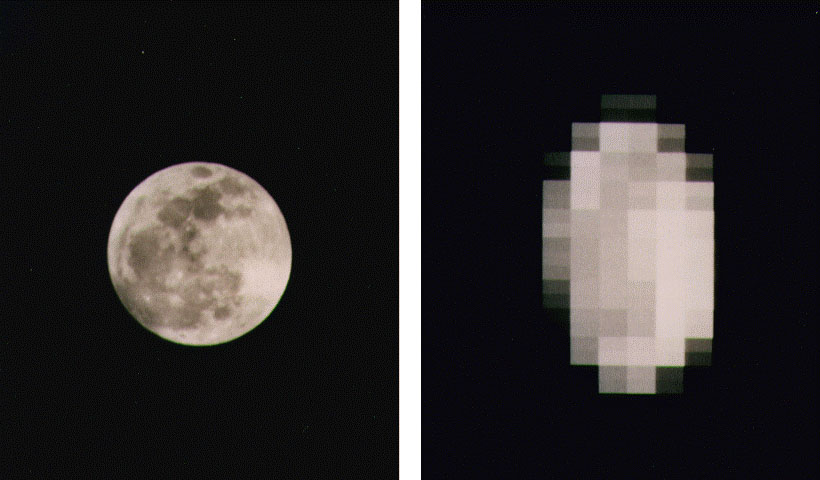 Lunar Viewing Geometry
SeaWiFS field-of-view = 1.6 x 1.6 milliradians
Distance to Earth = 705 km
Distance to Moon = 384400 km
Nadir pixel size on Earth = 705 x 0.0016 = 1.1 km
Nadir pixel size on Moon = 384400 x 0.0016 = 615 km
Diameter of Moon = 3478 km (approximately 6 pixels)
SeaWiFS Lunar Calibration
Correction for Long-term Detector Degradation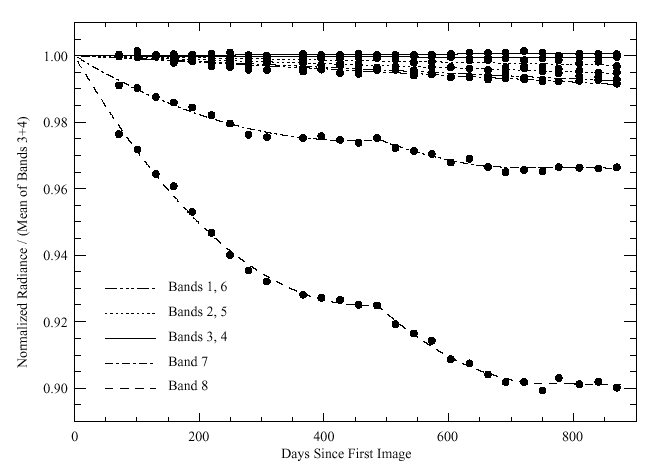 Comparison with in situ (field) measurements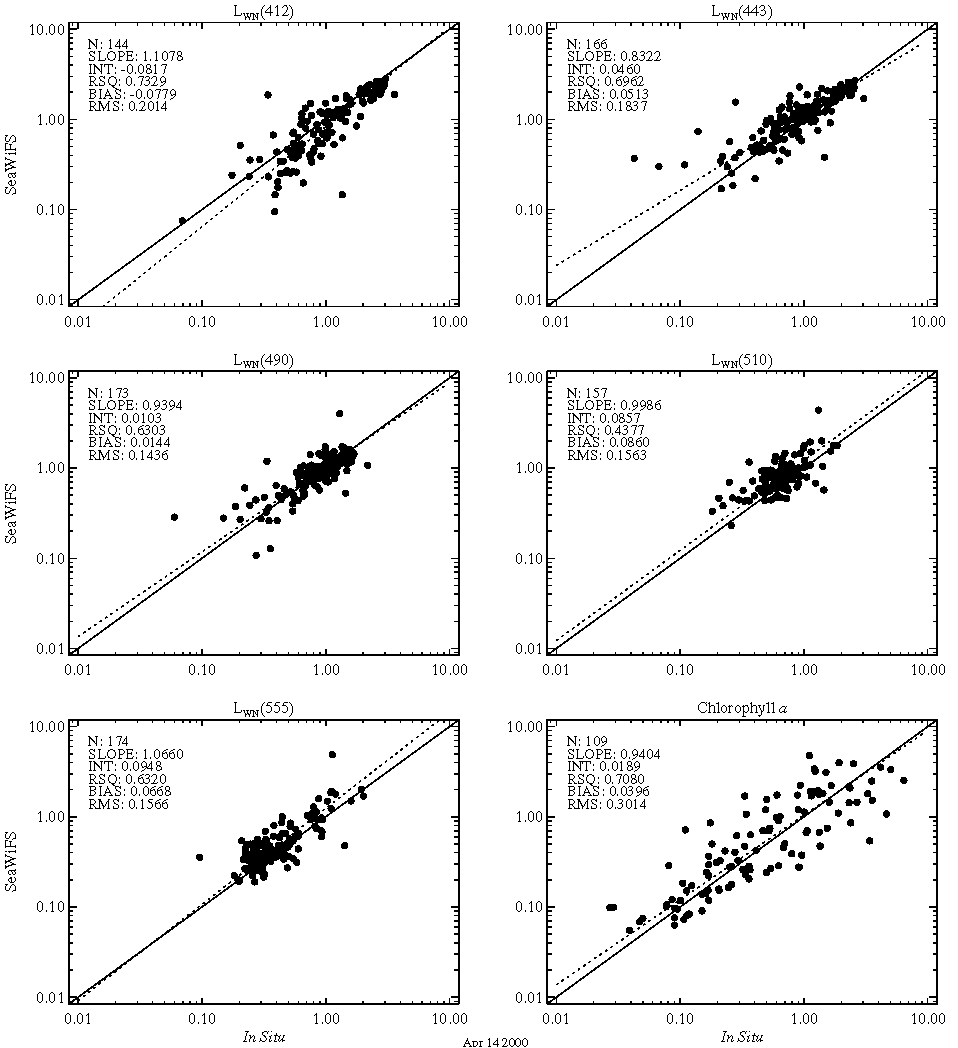 Bryan Franz(franz@seawifs.gsfc.nasa.gov)