SeaWiFS Ocean Color Reprocessing 2022.0
Introduction
Reprocessing 2022.0 is a multi-mission reprocessing to incorporate updates in instrument calibration, vicarious calibration, new ancillary sources and algorithm improvements. The affected missions are CZCS, SeaWiFS, OCTS, MERIS, MODIS on Aqua and Terra, VIIRS on SNPP and NOAA-20, OLCI on Sentinel-3A and Sentinel-3B, GOCI, and HICO. Here we describe the results specific to SeaWiFS. There were no calibration changes in this reprocessing for SeaWiFS aside from a revised vicarious calibration to account for the multi-scattering epsilon change to the atmospheric correction.
Results
Time Series Comparison
The comparison of the SeaWiFS time series for global deep water (>1000m) generated for the R2022 configuration to the corresponding R2018 time series is shown below (left panels). The ratio of R2022 to R2018 is also shown (right panels). Overall, the differences in Chlorophyll and remote sensing reflectance between R2018 and R2022 are small.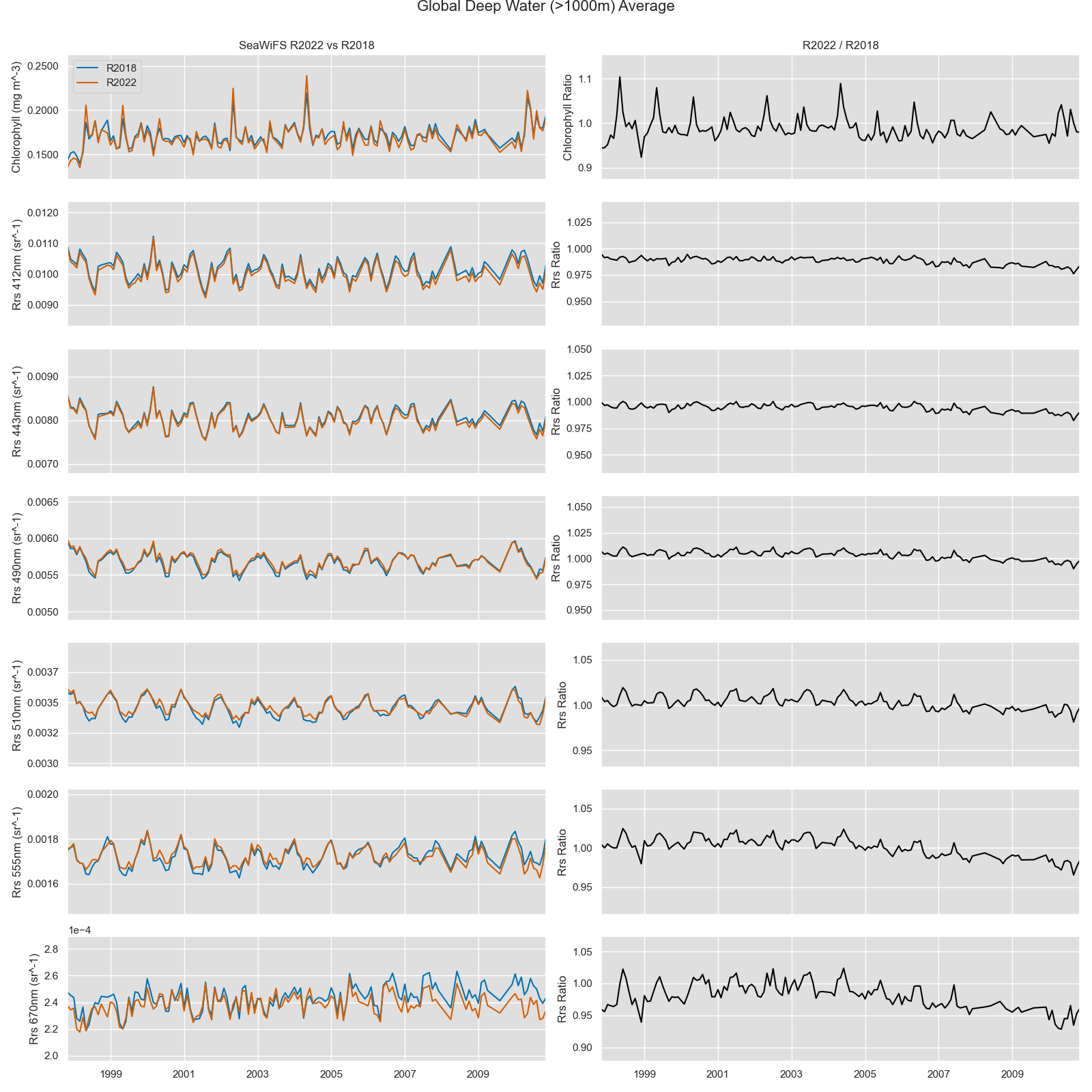 Comparison with In Situ Measurements
Validation of the chlorophyll, apparent optical properties (Rrs, Kd490), inherent optical properties (a_giop, aph_giop, adg_giop, bbp_giop), PAR, PIC, and POC retrievals was performed relative to all available match-ups from SeaBASS and the Aerosol Robotic Network - Ocean Color (AERONET-OC). Statistical analysis, scatter plots and frequency distribution comparisons of the satellite to in situ match-ups are provided below.
Chlorophyll a (chlor_a)
* statistical calculations based on log10 (implies ignoring values equal to or less than zero)
Product
Name
#
Mean Bias
Mean Absolute Error (MAE)
SeaWiFS Range
In situ Range
chlor_a
2270
1.07404*
1.66383*
0.01940, 300.49725
0.009, 138.04700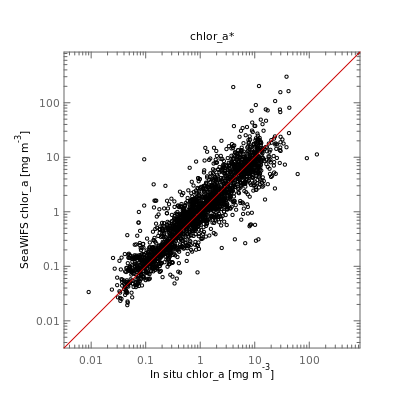 Apparent Optical Properties
Remote Sensing Reflectance (Rrs)
Product
Name
#
Mean Bias
Mean Absolute Error (MAE)
SeaWiFS Range
In situ Range
Rrs412
2151
-0.00009
0.00136
-0.00395, 0.01980
0.00001, 0.02150
Rrs443
2489
-0.00004
0.00105
-0.00258, 0.02152
0.00007, 0.02227
Rrs490
2029
-0.00046
0.00094
-0.00069, 0.02697
0.00039, 0.03020
Rrs510
1037
-0.00025
0.00075
0.00048, 0.02702
0.00065, 0.03023
Rrs555
2145
-0.00039
0.00084
0.00089, 0.02627
0.00029, 0.03052
Rrs670
1595
-0.00009
0.00032
-0.00054, 0.01236
0.00002, 0.01090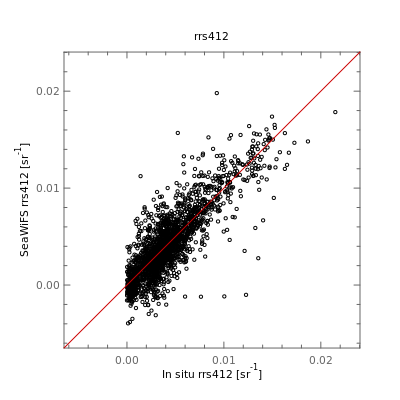 Diffuse Attenuation Coefficients (kd490)
* statistical calculations based on log10 (implies ignoring values equal to or less than zero)
Product
Name
#
Mean Bias
Mean Absolute Error (MAE)
SeaWiFS Range
In situ Range
kd490
688
1.14673*
1.35752*
0.01966, 6.40000
0.00170, 1.80630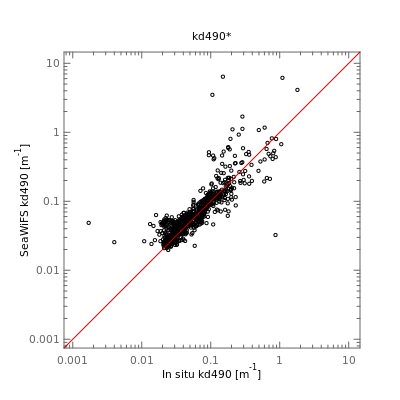 Inherent Optical Properties
Total Absorption Coefficients (a_giop)
* statistical calculations based on log10 (implies ignoring values equal to or less than zero)
Product
Name
#
Mean Bias
Mean Absolute Error (MAE)
SeaWiFS Range
In situ Range
a_giop412
302
0.92347*
1.75333*
0.01418, 2.61910
0.01119, 2.06813
a_giop443
302
0.87383*
1.53631*
0.01556, 2.43129
0.01177, 1.55735
a_giop490
302
0.82135*
1.33673*
0.02000, 1.53624
0.01707, 0.80774
a_giop510
302
0.86589*
1.24734*
0.03518, 1.27270
0.03396, 0.63838
a_giop555
302
0.91844*
1.14711*
0.02489, 0.83111
0.05983, 0.4090
a_giop670
302
0.93333*
1.10831*
0.04994, 1.88431
0.44098, 0.89216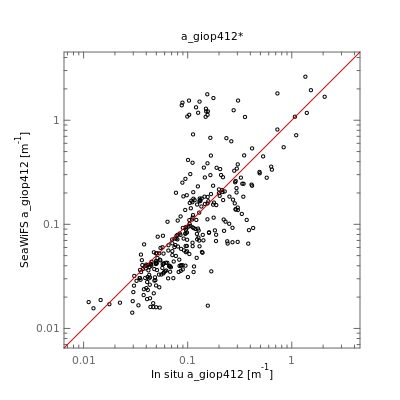 Phytoplankton Absorption Coefficients (aph_giop)
* statistical calculations based on log10 (implies ignoring values equal to or less than zero)
Product
Name
#
Mean Bias
Mean Absolute Error (MAE)
SeaWiFS Range
In situ Range
aph_giop412
297
0.73569*
1.75587*
0.00009, 1.84905
0.00057, 0.30817
aph_giop443
302
0.81311*
1.69451*
0.00028, 1.98613
0.00075, 0.36954
aph_giop490
302
0.86385*
1.64818*
0.00019, 1.33298
0.00036, 0.25075
aph_giop510
302
0.85628*
1.73937*
0.00006, 1.10896
0.00013, 0.20075
aph_giop555
291
0.91812*
1.88591*
0.00005, 0.82529
0.00006, 0.10098
aph_giop670
302
1.04091*
1.78792*
0.00008, 1.43677
0.00022, 0.20921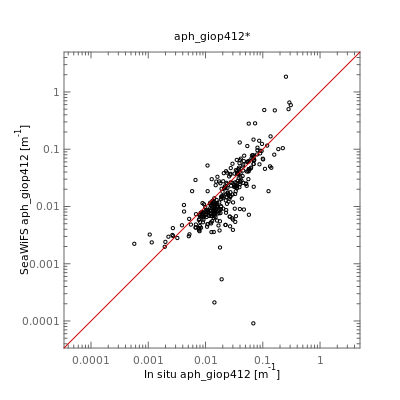 Absorption Coefficient of Non-algal Material plus CDOM (adg_giop)
* statistical calculations based on log10 (implies ignoring values equal to or less than zero)
Product
Name
#
Mean Bias
Mean Absolute Error (MAE)
SeaWiFS Range
In situ Range
adg_giop412
301
0.87503*
2.28397*
0.00250, 2.26612
0.00539, 1.49709
adg_giop443
301
0.80043*
2.37875*
0.00143, 1.40316
0.00268, 0.96252
adg_giop490
301
0.66532*
2.63639*
0.00060, 0.75179
0.00105, 0.51651
adg_giop510
301
0.62244*
2.75177*
0.00044, 0.52449
0.00073, 0.39066
adg_giop555
301
0.52130*
3.12199*
0.00019, 0.23333
0.00004, 0.21688
adg_giop670
301
0.30274*
4.42809*
0.00009, 0.02945
0.00006, 0.05104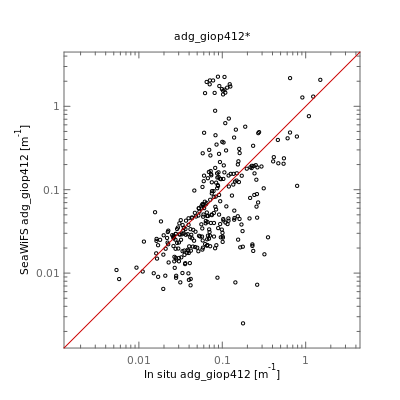 backscattering coefficient of particles (bbp_giop)
* statistical calculations based on log10 (implies ignoring values equal to or less than zero)
Product
Name
#
Mean Bias
Mean Absolute Error (MAE)
SeaWiFS Range
In situ Range
bbp_giop412
195
0.92548*
1.51465*
0.00014, 0.01112
0.00067, 0.04272
bbp_giop443
195
0.91610*
1.49576*
0.00014, 0.01025
0.00058, 0.03701
bbp_giop490
195
0.89594*
1.47270*
0.00014, 0.00912
0.00047, 0.03064
bbp_giop510
195
0.89171*
1.46530*
0.00014, 0.00870
0.00044, 0.02827
bbp_giop555
195
0.87839*
1.45564*
0.00014, 0.00801
0.00037, 0.02405
bbp_giop670
195
0.84646*
1.47337*
0.00014, 0.00719
0.00025, 0.01677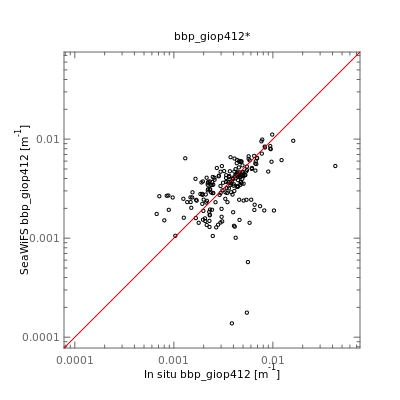 Photosynthetically Available Radiation (par)
Product
Name
#
Mean Bias
Mean Absolute Error (MAE)
SeaWiFS Range
In situ Range
par
776
7.85011
8.01971
17.58338, 63.98180
8.98305, 62.12110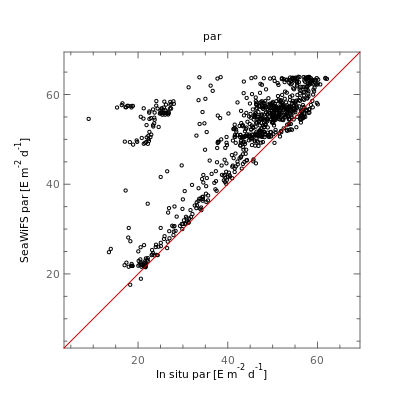 Particulate Inorganic Carbon (pic)
* statistical calculations based on log10 (implies ignoring values equal to or less than zero)
Product
Name
#
Mean Bias
Mean Absolute Error (MAE)
SeaWiFS Range
In situ Range
pic
28
0.37003*
4.19257*
0.00001, 0.00532
0.00001, 0.00126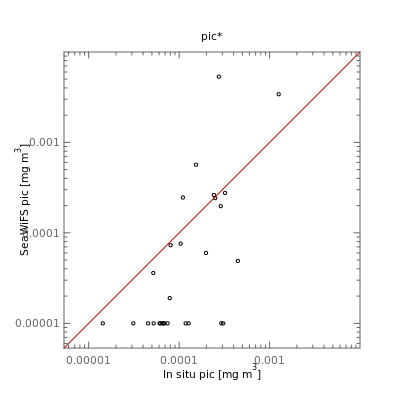 Particulate Organic Carbon (poc)
* statistical calculations based on log10 (implies ignoring values equal to or less than zero)
Product
Name
#
Mean Bias
Mean Absolute Error (MAE)
SeaWiFS Range
In situ Range
poc
400
1.00615*
1.34598*
21.59990, 1844.70520
19.54000, 1191.85925