MERIS Ocean Color Reprocessing 2022.0
Introduction
Reprocessing 2022.0 is a multi-mission reprocessing to incorporate updates in instrument calibration, vicarious calibration, new ancillary sources and algorithm improvements. The affected missions are CZCS, SeaWiFS, OCTS, MERIS, MODIS on Aqua and Terra, VIIRS on SNPP and NOAA-20, OLCI on Sentinel-3A and Sentinel-3B, GOCI, and HICO. Here we describe the changes and results specific to MERIS.
Instrument Calibration
The MERIS data are now based on ESA's 4th reprocessing .
Product Formats
As this is the first reprocessing of MERIS since R2012.0, the file formats and product suites for MERIS will now be brought into alignment with those employed in the R2014.0 multi-mission reprocessing.
This brings the MERIS L2 and L3 data formats consistent with the other supported missions.
Results
Time Series Comparison
Influences of the reprocessing on time series of chlorophyll concentration (Chla) and remote sensing reflectance (Rrs) were analyzed by comparing MERIS R2022 to R2012 (Figure 1) and SeaWiFS R2022 data (Figure 2) for global deep water (>1000m). The differences between MERIS R2022 and R2012 are shown in time series (left panel) and their ratios (right panel). In general, Chla and Rrs from MERIS R2022 showed high consistency with those from SeaWiFS R2022 (ratios around 1). Rrs(560) and Rrs(665) have relatively low values compared to other bands, and are more sensitive to different noises, thus showed higher differences.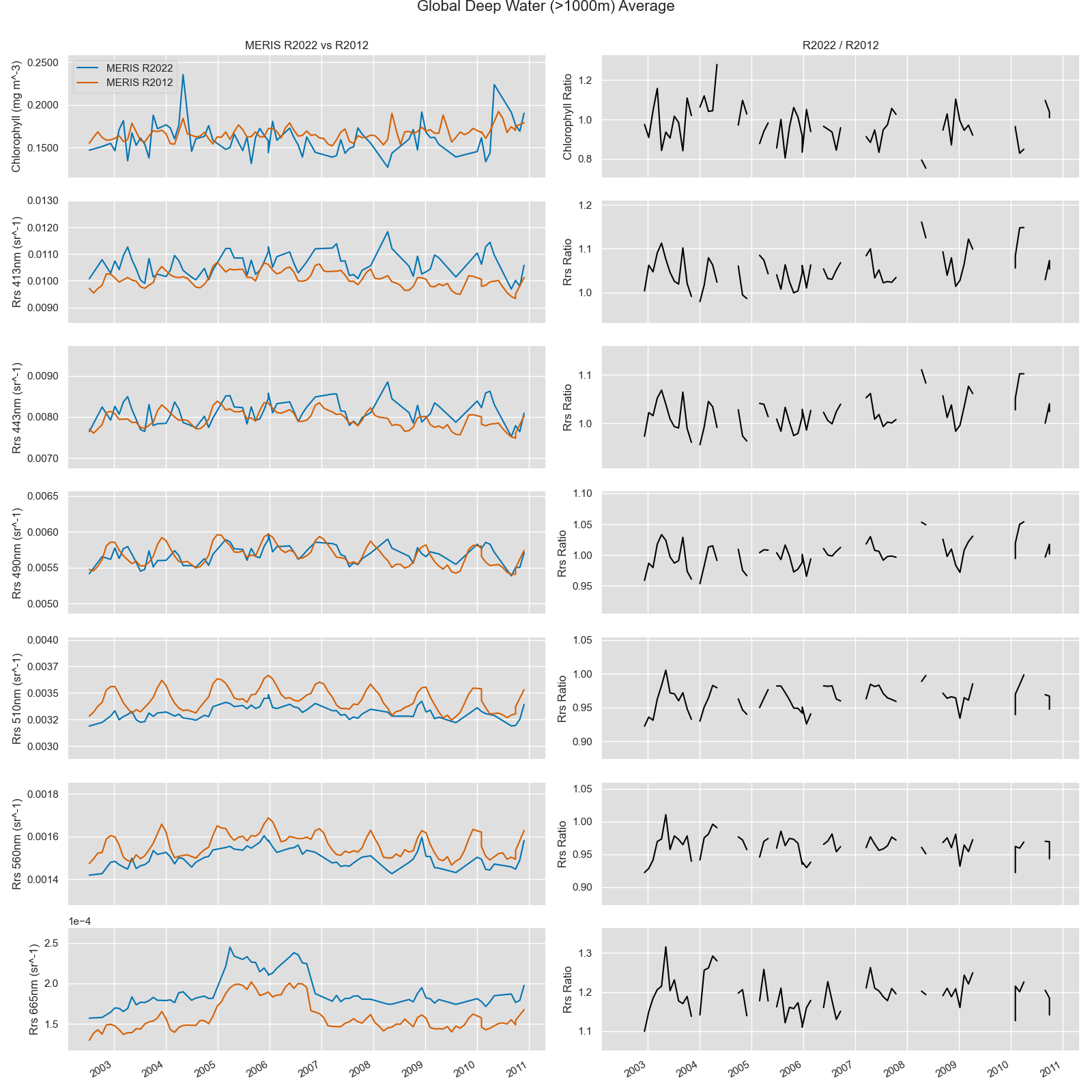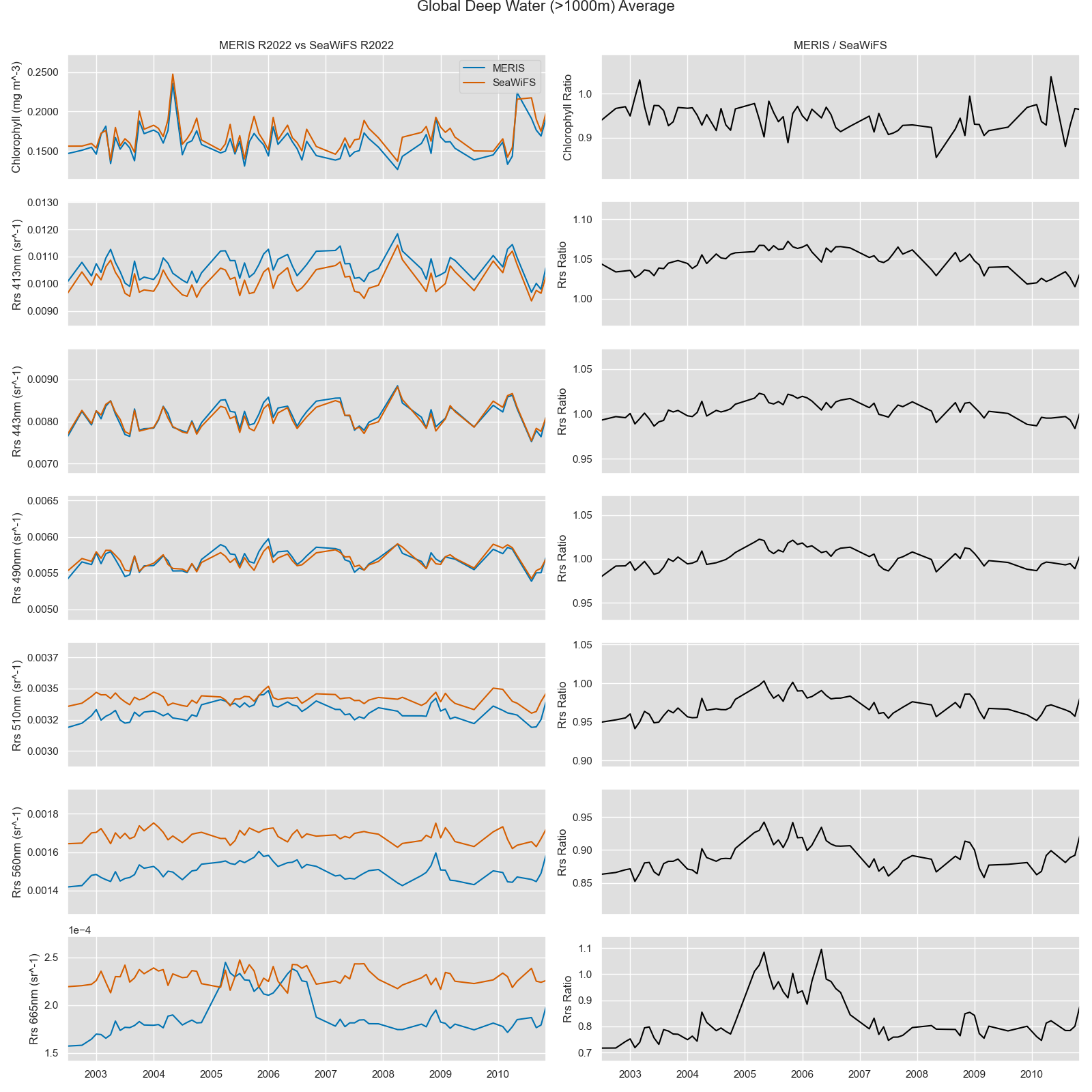 Comparison with In Situ Measurements
Validation of the chlorophyll, apparent optical properties (Rrs, Kd490), inherent optical properties (a_giop, aph_giop, adg_giop, bbp_giop), PAR, PIC, and POC retrievals was performed relative to all available match-ups from SeaBASS and the Aerosol Robotic Network - Ocean Color (AERONET-OC). Statistical analysis, scatter plots and frequency distribution comparisons of the satellite to in situ match-ups are provided below.
Chlorophyll a (chlor_a)
* statistical calculations based on log10 (implies ignoring values equal to or less than zero)
Product
Name
MERIS Range
In situ Range
#
Mean Bias
Mean Absolute Error (MAE)
chlor_a
717
1.48986*
1.89465*
0.01300, 858.28147
0.01700, 46.64000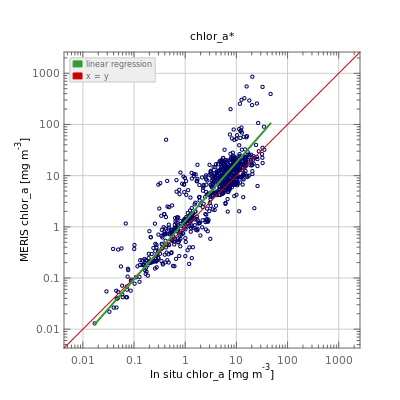 Apparent Optical Properties
Remote Sensing Reflectance (Rrs)
Product
Name
#
Mean Bias
Mean Absolute Error (MAE)
MERIS Range
In situ Range
Rrs413
1222
0.00026
0.00128
-0.00217, 0.01551
-0.00000, 0.01555
Rrs443
1349
0.00001
0.00108
-0.00059, 0.03309
0.00026, 0.01557
Rrs490
1165
-0.00040
0.00107
0.00032, 0.03268
0.00078, 0.02442
Rrs510
328
-0.00029
0.00072
0.00084, 0.02594
0.00119, 0.02538
Rrs560
235
-0.00018
0.00067
0.00096, 0.02829
0.00095, 0.02862
Rrs665
1045
-0.00010
0.00034
-0.00025, 0.01179
0.00003, 0.01078
Rrs681
260
-0.00013
0.00035
-0.00045, 0.01084
0.00005, 0.01075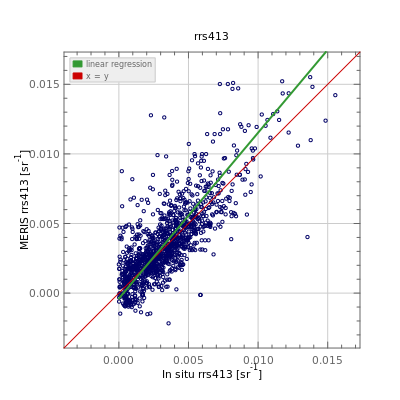 Diffuse Attenuation Coefficients (kd490)
* statistical calculations based on log10 (implies ignoring values equal to or less than zero)
Product
Name
#
Mean Bias
Mean Absolute Error (MAE)
MERIS Range
In situ Range
kd490
229
1.03730*
1.33034*
0.02204, 0.82807
0.01190, 3.88735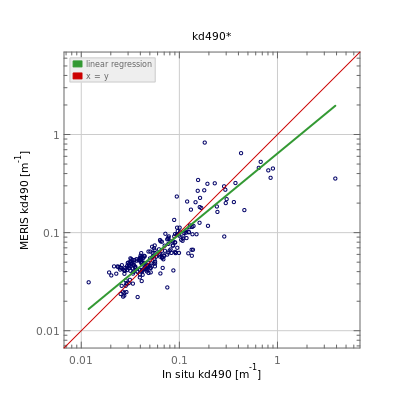 Inherent Optical Properties
Total Absorption Coefficients (a_giop)
* statistical calculations based on log10 (implies ignoring values equal to or less than zero)
Product
Name
#
Mean Bias
Mean Absolute Error (MAE)
MERIS Range
In situ Range
a_giop413
25
0.72762*
1.73617*
0.01599, 0.62617
0.02474, 0.95427
a_giop443
25
0.76703*
1.48313*
0.01644, 0.39944
0.02039, 0.68512
a_giop490
25
0.74939*
1.38455*
0.02033, 0.25764
0.02148, 0.38107
a_giop510
25
0.79854*
1.29349*
0.03550, 0.21361
0.03721, 0.30252
a_giop560
25
0.88565*
1.15405*
0.06290, 0.14715
0.06415, 0.19487
a_giop665
25
0.99364*
1.04291*
0.34893, 0.58468
0.43053, 0.51604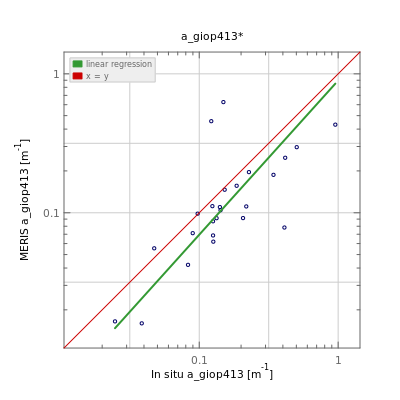 Phytoplankton Absorption Coefficients (aph_giop)
* statistical calculations based on log10 (implies ignoring values equal to or less than zero)
Product
Name
#
Mean Bias
Mean Absolute Error (MAE)
MERIS Range
In situ Range
aph_giop413
30
1.11421*
1.64520*
0.00264, 0.26804
0.00141, 0.17281
aph_giop443
30
1.14503*
1.64879*
0.00394, 0.30013
0.00193, 0.18974
aph_giop490
30
1.19887*
1.63031*
0.00277, 0.20280
0.00102, 0.11532
aph_giop510
30
1.18637*
1.65676*
0.00128, 0.15343
0.00055, 0.08476
aph_giop560
30
1.62950*
2.23103*
0.00020, 0.07756
0.00002, 0.04263
aph_giop665
30
1.35185*
1.75562*
0.00080, 0.15785
0.00038, 0.07247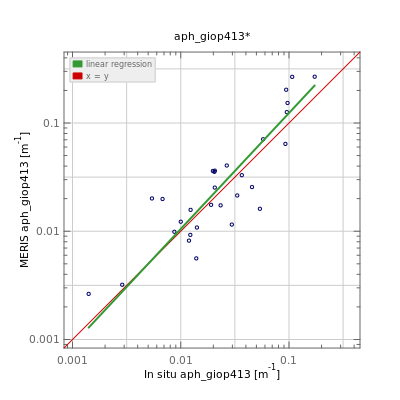 Absorption Coefficient of Non-algal Material plus CDOM (adg_giop)
* statistical calculations based on log10 (implies ignoring values equal to or less than zero)
Product
Name
#
Mean Bias
Mean Absolute Error (MAE)
MERIS Range
In situ Range
adg_giop413
24
0.50934*
2.77703*
0.00160, 0.79563
0.01868, 0.77681
adg_giop443
24
0.46445*
3.01686*
0.00093, 0.46364
0.01140, 0.48832
adg_giop490
24
0.37496*
3.60127*
0.00040, 0.19897
0.00507, 0.25096
adg_giop510
24
0.34850*
3.82019*
0.00029, 0.13881
0.00334, 0.18523
adg_giop560
24
0.27528*
4.58815*
0.00007, 0.05644
0.00138, 0.09013
adg_giop665
24
0.19952*
5.51382*
0.00010, 0.00853
0.00033, 0.02001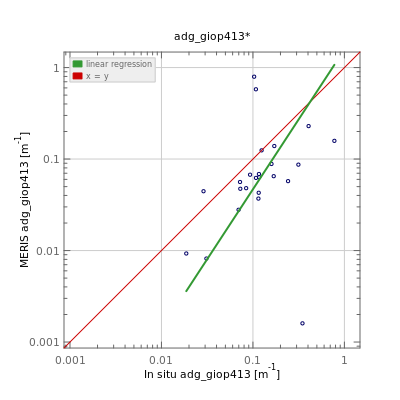 backscattering coefficient of particles (bbp_giop)
* statistical calculations based on log10 (implies ignoring values equal to or less than zero)
Product
Name
#
Mean Bias
Mean Absolute Error (MAE)
MERIS Range
In situ Range
bbp_giop413
43
0.93414*
1.36488*
0.00038, 0.01075
0.00067, 0.01028
bbp_giop443
43
0.92384*
1.35468*
0.00036, 0.01025
0.00058, 0.00990
bbp_giop490
43
0.89977*
1.34889*
0.00034, 0.00956
0.00047, 0.00942
bbp_giop510
43
0.89324*
1.34904*
0.00032, 0.00930
0.00044, 0.00922
bbp_giop560
43
0.87145*
1.35363*
0.00027, 0.00868
0.00036, 0.00880
bbp_giop665
43
0.83531*
1.40285*
0.00020, 0.00771
0.00026, 0.00807
bbp_giop681
2
0.71190*
1.40469*
0.00133, 0.00137
0.00186, 0.00194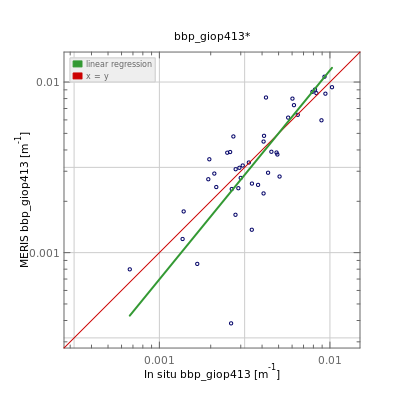 Photosynthetically Available Radiation (par)
Product
Name
#
Mean Bias
Mean Absolute Error (MAE)
MERIS Range
In situ Range
par
139
4.55108
4.55382
21.53575, 63.84155
11.52175, 60.62418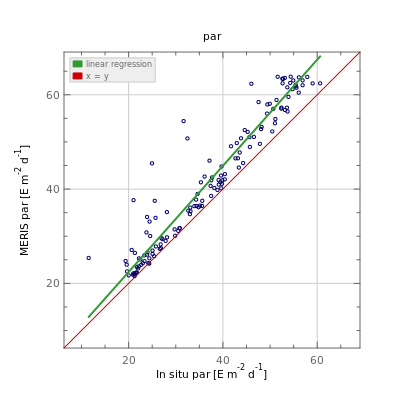 Particulate Inorganic Carbon (pic)
* statistical calculations based on log10 (implies ignoring values equal to or less than zero)
Product
Name
#
Mean Bias
Mean Absolute Error (MAE)
MERIS Range
In situ Range
pic
29
0.17620*
7.36911*
0.00001, 0.00034
0.00003, 0.00104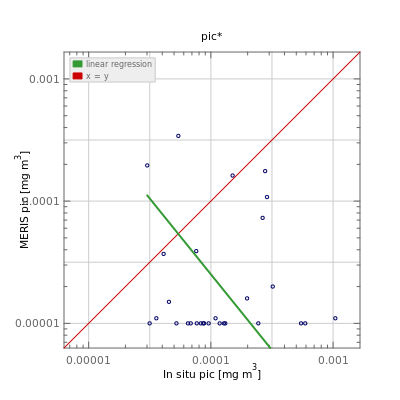 Particulate Organic Carbon (poc)
* statistical calculations based on log10 (implies ignoring values equal to or less than zero)
Product
Name
#
Mean Bias
Mean Absolute Error (MAE)
MERIS Range
In situ Range
poc
78
0.94232*
1.47399*
19.59990, 564.76513
11.31300, 796.91229