Ocean Color Chlorophyll (OC) v6
For a more up to date version, please go here.
---
updated 18 Mar 2010, OC4O modified to use 516 instead of 520 nm
---
The operational algorithm for deriving near-surface chlorophyll-a concentrations (OC; O'Reilly et al. 2000) was updated using in situ data from NOMAD version 2. NOMAD is a publicly available, global bio-optical data set constructed from data archived in SeaBASS. The data span a wide range of water types from coastal and offshore regions and were collected by participants in the NASA Ocean Biology &amp Biogeochemistry Program and by voluntary and international collaborators. The algorithm form describes the polynomial best fit that relates the log-transformed geophysical variable to a log-transformed ratio of remote-sensing reflectances. The polynomial form is consistent with past versions of OC.
requirements
* polynomials bisect the full dynamic range of the development data set
* OC4 = OC4E = OC4O = OC3S = OC3M = OC3C = OC3E = OC3O = OC2S = OC2M = OC2E = OC2O
algorithm
form:
* Rrs1 = blue wavelength Rrs (e.g., 443, 490, or 510-nm)
* Rrs2 = green wavelength Rrs (e.g., 547, 555, or 565-nm)
* X = log10(Rrs1 / Rrs2)
* chlor_a = 10^(a0 + a1_X + a2_X^2 + a3_X^3 + a4_X^4)
changes from operational:
* none, simply a revised fit to an updated in situ data set
v6 coefficients:
sensor
default *
blue
green
a0
a1
a2
a3
a4
OC4
SeaWiFS
Y
443>489>510
555
0.3272
-2.9940
2.7218
-1.2259
-0.5683
OC4E
MERIS
Y
443>489>510
560
0.3255
-2.7677
2.4409
-1.1288
-0.4990
OC4O
OCTS
Y
443>489>516
565
0.3325
-2.8278
3.0939
-2.0917
-0.0257
OC3S
SeaWiFS
N
443>489
555
0.2515
-2.3798
1.5823
-0.6372
-0.5692
OC3M-551
MODIS
N
443>489
550
0.2424
-2.5828
1.7057
-0.3415
-0.8818
OC3M-547
MODIS
Y
443>489
547
0.2424
-2.7423
1.8017
0.0015
-1.2280
OC3V
VIIRS
Y
443>486
550
0.2228
-2.4683
1.5867
-0.4275
-0.7768
OC3E
MERIS
N
443>489
560
0.2521
-2.2146
1.5193
-0.7702
-0.4291
OC3O
OCTS
N
443>489
565
0.2399
-2.0825
1.6126
-1.0848
-0.2083
OC3C
CZCS
Y
443>520
550
0.3330
-4.3770
7.6267
-7.1457
1.6673
OC2S
SeaWiFS
N
489
555
0.2511
-2.0853
1.5035
-3.1747
0.3383
OC2E
MERIS
N
489
560
0.2389
-1.9369
1.7627
-3.0777
-0.1054
OC2O
OCTS
N
489
565
0.2236
-1.8296
1.9094
-2.9481
-0.1718
OC2M-551
MODIS
N
489
550
0.2481
-2.2958
1.4053
-3.1299
0.6478
OC2M-547
MODIS
N
489
547
0.2500
-2.4752
1.4061
-2.8233
0.5405
OC2M-HI
MODIS (500-m)
Y
469
555
0.1464
-1.7953
0.9718
-0.8319
-0.8073
* Y indicates operational / default algorithm for each sensor within OBPG processing
algorithm development
| OC4 | OC3S | OC3M-551 | OC3M-547 |
| --- | --- | --- | --- |
| [![](ocfit_oc4_sm.png)](ocfit_oc4.png) | [![](ocfit_oc3s_sm.png)](ocfit_oc3s.png) | [![](ocfit_oc3m_sm.png)](ocfit_oc3m.png) | [![](ocfit_oc3mr_sm.png)](ocfit_oc3mr.png) |
| [![](ocdens_oc4_sm.png)](ocdens_oc4.png) | [![](ocdens_oc3s_sm.png)](ocdens_oc3s.png) | [![](ocdens_oc3m_sm.png)](ocdens_oc3m.png) | [![](ocdens_oc3mr_sm.png)](ocdens_oc3mr.png) |
| OC4E | OC4O | OC3E | OC3O |
| --- | --- | --- | --- |
| [![](ocfit_oc4e_sm.png)](ocfit_oc4e.png) | [![](ocfit_oc4o_sm.png)](ocfit_oc4o.png) | [![](ocfit_oc3e_sm.png)](ocfit_oc3e.png) | [![](ocfit_oc3o_sm.png)](ocfit_oc3o.png) |
| [![](ocdens_oc4e_sm.png)](ocdens_oc4e.png) | [![](ocdens_oc4o_sm.png)](ocdens_oc4o.png) | [![](ocdens_oc3e_sm.png)](ocdens_oc3e.png) | [![](ocdens_oc3o_sm.png)](ocdens_oc3o.png) |
| OC3V | OC3C | OC2S | OC2E |
| --- | --- | --- | --- |
| [![](ocfit_oc3v_sm.png)](ocfit_oc3v.png) | [![](ocfit_oc3c_sm.png)](ocfit_oc3c.png) | [![](ocfit_oc2s_sm.png)](ocfit_oc2s.png) | [![](ocfit_oc2e_sm.png)](ocfit_oc2e.png) |
| [![](ocdens_oc3v_sm.png)](ocdens_oc3v.png) | [![](ocdens_oc3c_sm.png)](ocdens_oc3c.png) | [![](ocdens_oc2s_sm.png)](ocdens_oc2s.png) | [![](ocdens_oc2e_sm.png)](ocdens_oc2e.png) |
| OC2O | OC2M-551 | OC2M-547 | OC2M-HI |
| --- | --- | --- | --- |
| [![](ocfit_oc2o_sm.png)](ocfit_oc2o.png) | [![](ocfit_oc2m_sm.png)](ocfit_oc2m.png) | [![](ocfit_oc2mr_sm.png)](ocfit_oc2mr.png) | [![](ocfit_oc2mh_sm.png)](ocfit_oc2mh.png) |
| [![](ocdens_oc2o_sm.png)](ocdens_oc2o.png) | [![](ocdens_oc2m_sm.png)](ocdens_oc2m.png) | [![](ocdens_oc2mr_sm.png)](ocdens_oc2mr.png) | [![](ocdens_oc2mh_sm.png)](ocdens_oc2mh.png) |
algorithm verification: internal consistency
intercomparison of operational/default algorithms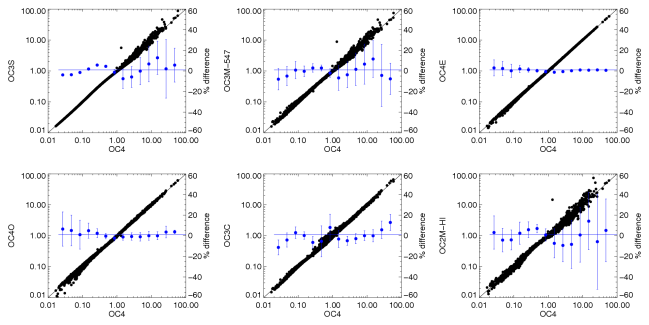 intercomparison of 3-band algorithms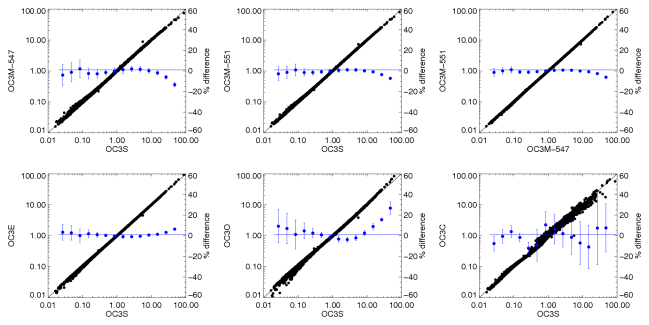 intercomparison of 2-band algorithms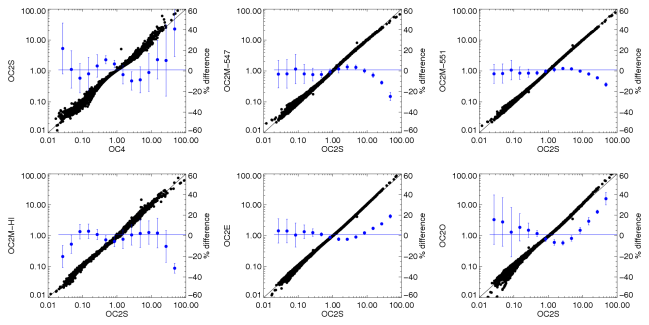 algorithm verification: comparison with previous versions
operational OC4 and OC3M are v4 (SeaBAM); operational OC3S is v5 (NOMAD v1)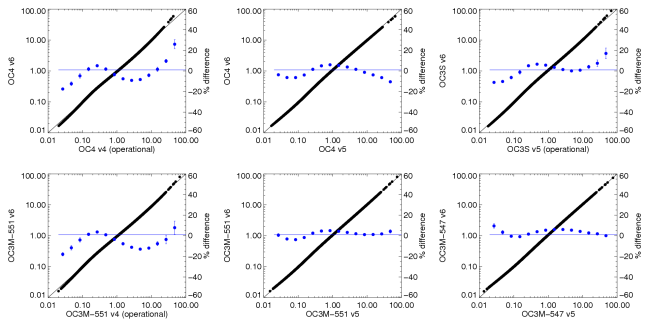 algorithm verification: comparison with Morel and Maritorena 2001

algorithm verification: level-2 match-ups
used NOMAD-free subset of SeaWiFS and MODIS-Aqua match-ups
| SeaWiFS | MODIS-Aqua |
| --- | --- |
| [![](ocval_swf_sm.png)](ocval_swf.png) | [![](ocval_mod_sm.png)](ocval_mod.png) |
Questions? Contact Jeremy Werdell
NASA Ocean Biology Processing Group