The Ben Franklin - Grumman/Piccard PX-15 Submersible
50th Anniversary of the Gulf Stream Drift Mission
July 14, 1969 - August 14, 1969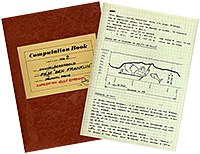 During the thirty days of the Ben Franklin's Gulf Stream Drift Mission, all the crew members kept detailed journals of the scientific and technical aspects of the mission along with many personal reflections as well. Erwin Aebersold, the Swiss engineer who helped design and pilot of the Ben Franklin not only kept an amazingly comprehensive and enjoyable journal, but he illustrated each day's events with hand-drawn impressions of what was happening around him and recorded the submarine's daily progress in a series of daily depth profiles that form the basis of your voyage on the Ben Franklin.
Before you begin your journey, take a look at the page below which will be your guide to each day of the thirty day mission. The function and information presented in each of the seven sections (numbered in red) is described in the right-hand column.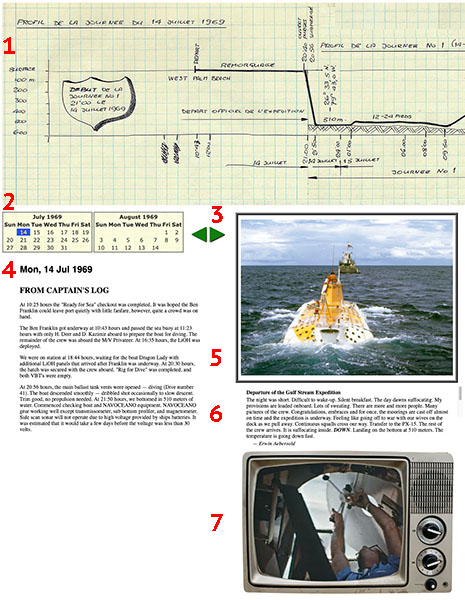 1 This is the timeline based on Erwin's journal drawings
2 This is the calendar that you can use to use to go to any specific day of the mission.
3 You can use these forward and back arrows to move one day at a time
4 Here will be presented either the official Captain's Log or the Daily Press Bulletins that were released by the Grumman Mission Team
5 Photographs from the mission related to events that either took place on that day, may relate to something noted in Erwin Aebersold's journal or otherwise relevant
6 Excerpts from the journals written by crew members.
7 For some days, there will be short video clips that expand on the events of the day. Some clips will have sound that can be enabled by clicking on the television set to access the video control panel. For days without video, no television will appear.
As they say, the rest is history.....a history that largely remains untold - Until now.
Follow the crew of the Ben Franklin on each day of their voyage of discovery beginning on the first day of their mission by clicking on the icon of the submarine below.