SeaWiFS Captures a Sandstorm the Size of Spain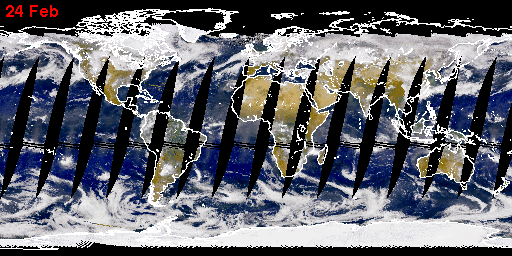 A massive sandstorm blowing off the northwest African desert has blanketed hundreds of thousands of square miles of the eastern Atlantic Ocean with a dense cloud of Saharan sand. The massive nature of this particular storm was first seen in a SeaWiFS image on Saturday, 26 February 2000 when it reached over 1000 miles into the Atlantic. These storms and the rising warm air can lift dust 15,000 feet or so above the African deserts and then out across the Atlantic, many times reaching as far as the Caribbean where they often require the local weather services to issue air pollution alerts as was recently the case in San Juan, Puerto Rico. Recent studies by the U.S. Geological Survey ( http://catbert.er.usgs.gov/african_dust/) have linked the decline of the coral reefs in the Caribbean to the increasing frequency and intensity of Saharan Dust events. By March 4th, the cloud of dust has reached the northeast coast of South America.
Visit the Sahara Dust Discussion Forum and Data Catalog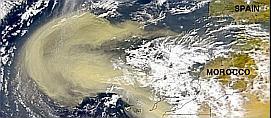 These images show one of the largest Saharan dust storms ever observed by SeaWiFS.
February 26, 2000: high resolution version (2.17 megabyte) and the lower resolution version (267 kilobyte)
February 28, 2000: high resolution version (1.7 megabyte) and the lower resolution version (193 kilobyte).
Also, here is a close-up image of the Canary Islands.
Credit line for all images:Provided by the SeaWiFS Project, NASA/Goddard Space Flight Center and ORBIMAGE
NOTE: All SeaWiFS images and data presented on this website are for research and educational use only. All commercial use of SeaWiFS data must be coordinated with GeoEye.

gene carl feldman (gene@seawifs.gsfc.nasa.gov) (301) 286-9428